VoIP Services in the Great Salt Lake Region
The massive technical leap from a one-on-one rotary phone call, to a group video-chat on hand-held devices owned by a dozen individuals spread out across the entire globe, cannot be exaggerated. And that leap came about in large part thanks to VoIP.
So What Is VoIP Anyway?
Techies love their acronyms, and "VoIP" is no exception. This abbreviation stands for "Voice Over Internet Protocol," which is just another way of describing a two-way telephone call. The difference is that instead of an analog voice signal traveling across miles of copper wires from one phone to another, a digital voice signal is broadcast far and wide on the information superhighway known as the Internet.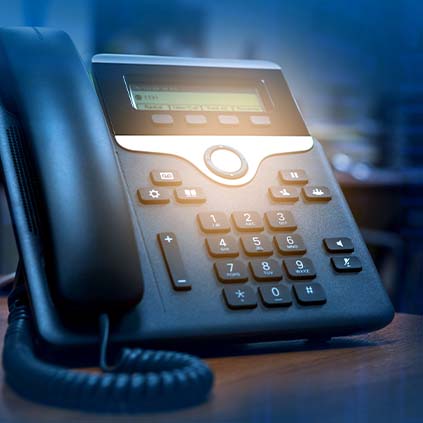 Yet VoIP does so much more than that. Besides enabling real-time, person-to-person conversation across small or great distances (just like the traditional telephone), it further enhances human communication by allowing the transmittal of faxes, text messages, documents, photographs, videos, and even conferenced video sessions by way of multi-directional audio-visual connections via worldwide broadband networks.
In other words, it is a far cry from how people communicated in your granddaddy's day.
Key Business Features of 911 IT's VoIP Services
Besides offering the benefits of a traditional analog switched telephone networks (a/k/a plain old telephone service, or "POTS"), a VoIP network from 911 IT provides the following voice and data features:

Custom caller ID

Custom on-hold music

Company directory

Voicemail to text/email

Personal assistant

Distributed calls via hunt groups

Time-of-day call routing

DND for incoming calls
And that is just a partial list. Best of all, unlike traditional PBX systems, VoIP does not require that a business disrupt the office and spend ridiculous amounts of money installing expensive wiring and hardware throughout the infrastructure. Rather, the voice-over-internet protocols can be implemented digitally on existing phones, software, mobile applications, and web pages.
important!
We hate spam as much (or more!) than you and promise to NEVER rent, share, or abuse your e-mail address and contact information in any way.
Testimonials

Great dedicated IT team!
We started using 911 IT when we tired of waiting for our issues to get resolved. Having a dedicated IT team, not a tech person that does it "on the side" has saved me time and money. Their experienced team helps me price check and make decisions when it comes to equipment and software. Since outsourcing our IT to 911, the 911 team has setup our new location and everything was running great before we opened our doors. You will not regret it, Call 911 IT!

Amy ArchuletaOwnerSpa Trouvé

Give them a try, you won't regret it!
911 IT's response time has been so great! Most of the time they will resolve our issue before we hang up the phone. When we find ourselves in IT trouble we are usually in a mess until we call 911 IT and they get things working again. They are experienced and they take time to know our setup. This allows them to resolve our issues fast. We feel comfortable using 911 IT and they have been able to solve the problems we have run into so far. Give them a try, you won't regret it!

Clay KellerPresidentKeller Construction

Their responsiveness is the best I've seen!
We brought in 911 IT because we were at a point in our business where we needed professional IT support. Our business had outgrown the services of our previous technology provider and we couldn't afford the periodic downtime we experienced with our internet and phones. We looked at a few other IT firms and went with 911 because they are truly problem solvers.

Mark A. ReeseCIC, Founder and OwnerWasatch Preferred
See Your Business Thrive with Our VoIP Services
How is this possible? For one thing, it will save your organization money. Thanks to the bandwidth efficiency of the internet, the cost of phone bills can be dramatically reduced every month. Since both voice and data communications travel across a single digital network with VoIP, your infrastructure expenses are minimized.
And in today's bustling business world, communications aren't just by human-to-human voice. Many different types of communication needs can be met by a single service, delivered via a centralized VoIP system.
Benefits of 911 IT's VoIP Services